Best Fishing Lures for Muskie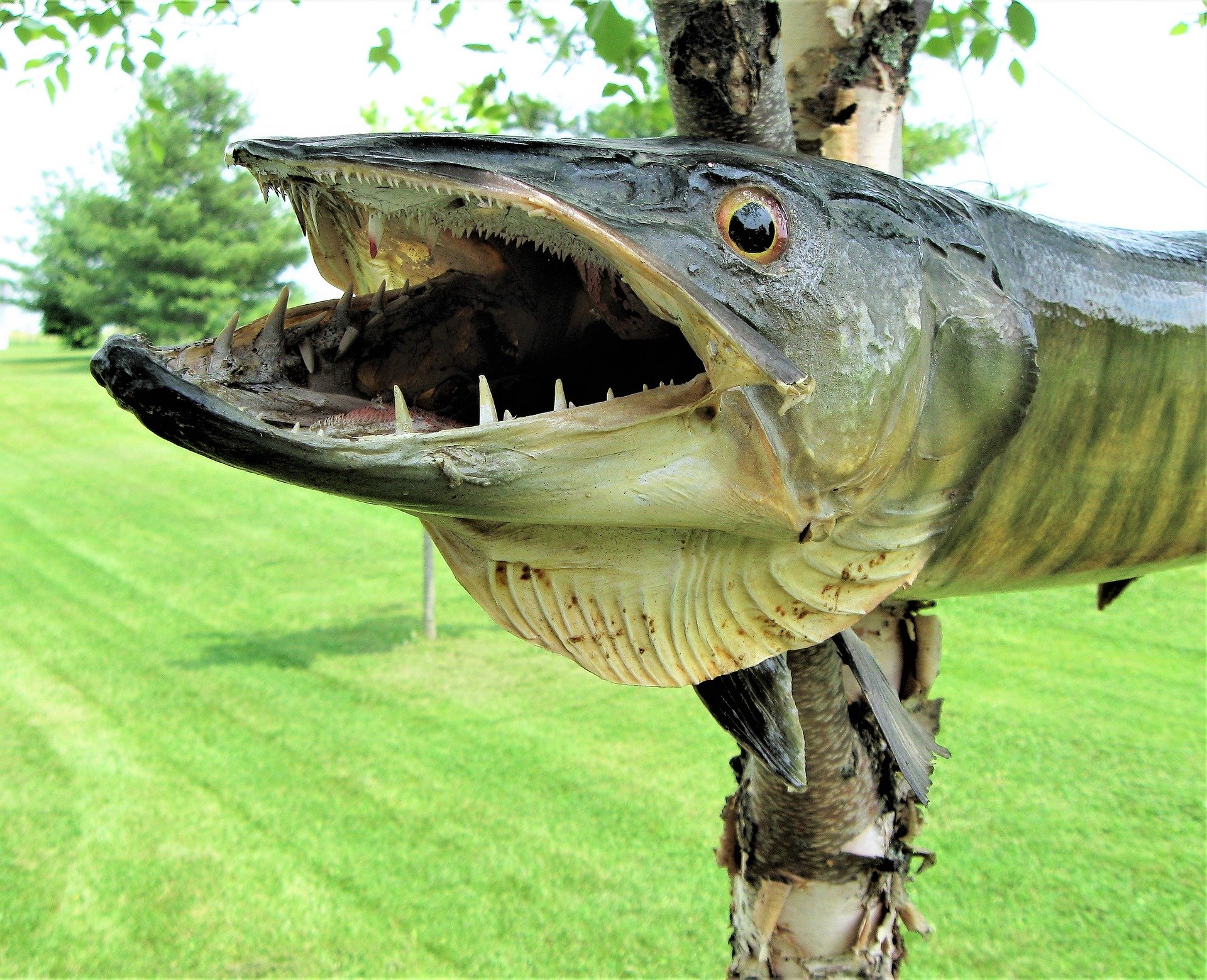 If you are a muskie angler, this is your chance to find out what the best fishing lures for muskies are. I know it can be very frustrating when you know there are muskies present but you can't hook one. It can drive you crazy.
First and foremost, you need to know the basic facts about muskies…
The muskellunge popularly known as the muskie is the largest member of the pike family. It has a flat head, a long body with light colored dark bars running down its side with plain white color on the undersides.
Did you know that the northern pike is often confused with the muskie? If you are a real muskie angler, you should know which is which.
Look:
Muskie fishing requires a lure that is easy to remove from the muskie`s mouth because they have sharp teeth and you should know how to handle them to avoid turning your muskie fishing hobby into a blood sport! You may also want to wear gloves.
Now, the question is… what are the best fishing lures for muskie fishing?
Mepps Magnum Musky Killer Single Treble
The name says it all! Mepps Magnum Killer Single Treble is 143% bigger than the standard Mepps Musky Killer. This type of bait is ideal for big fish such as the muskie. It features a #7 solid brass blade which will ensure maximum thump and flashes. The Magnum Killer Single Treble has bucktails that can easily be changed for you to experiment with to decide which one will work out best for your muskie fishing situation.
With the Mepps Magnum Musky Killer Single Treble, you don't have to worry about your muskie getting off the hook. The premium quality VMC heavy-duty #5/0 cone cut treble hook is enough to hold the biggest muskies around.
That all sound like ideal tackle for muskie fishing, right?
The Mepps Magnum Musky Killer Single Treble is highly recommended by fishermen of all levels because it is easy to use and its features are perfect for catching big fish such as the muskie. Some anglers commented about replacing the bucktails regularly but it shouldn't be an issue as you should change it once in a while.
Wait, here is the catch… the Mepps Magnum Musky Killer Single Treble can also catch the northern pike. So it is a good lure to have even if you miss that elusive muskie.
Nevertheless, the Magnum Musky Killer Single Treble is definitely a muskie catcher!
Mepps Piker Kit
The Piker Kit by Mepps is another lure that is suited for catching big toothed fish such as the muskie. It comes with a reusable tackle box that includes #5 Aglia Gold, #4 Aglia Gold-Red/ White, #4 Black Fury Hot Firetiger, #3 Aglia Long Silver, #2 Syclops Hot Orange, and the ¾ oz. Little Wolf Silver which are all designed to lure the pikes and muskies to your area. The Mepps Piker Kit is also made of a solid brass component which guarantees good performance and higher chances of catching the biggest fish such as the muskie.
You might be asking what do you need this set of lures for… because… it allows you to try the most popular styles muskie lures in one kit. Due to this, you have a better chance of catching that big ole muskie!
I can't emphasize this enough…
The Mepps Piker Kit is a versatile fishing lure package that will help you catch other types of big fish too, such as the northern pike and the great walleye which are both good alternatives.
There is no doubt, the Piker Kit by Mepps can catch the most aggressive muskie in the area!
Phantom Lures Softail
With the Phantom Lures Softail, you will achieve a soft sinking jerk bait with the capability of a hard bait. The solid high impact soft tail of the Phantom Lure can tease the muskie fish by drawing them closer to your area and has a belly flash that no muskie fish can resist. It also features 3D eyes, a triple stainless steel split ring which is hand painted and finished with high gloss epoxy.
Guess what?
The Phantom Lures Softail is one of the easiest jerkbaits to use when fishing. It is also one of the most highly rated fishing lures on the market. It glides easily and will allow any muskie to be caught quickly.
The Phantom Lures Softail is worth having in your tackle box. It is affordable, easy to use and good quality. With the Phantom Lures, catching that musky is much easier!
ERC Flash Grinder Musky Spinnerbaits
The ERC Flash Grinder Musky Spinnerbaits features a .062 diameter wire construction, 275 strand 3rd generation hydro silk skirts, chameleon flash strips, saltwater hackle and an over sized trailer hook which are all ideal if you are fishing in the weeds. While its spinnerbait is also designed with feathers and flashy willows which can trick the muskies to get closer to your area.
The best thing about the ERC Flash Grinder Spinnerbaits is that it is easy to use and anyone can figure out how to utilize it properly. It performs well, with a great looking design and has flashy features that will serve you best when catching big fish such as the muskie. This is a monster of a spinner!
If you are after the best spinnerbaits for muskie, choose the ERC Flash Grinder!
Final Thoughts
Finding the best fishing lures is not easy as you need to consider what type of fish you will be catching and what type of water bodies will you be fishing in. The quality of the hooks that you will be using must also be considered as you don't want the muskies getting away.
The bottomline is… it can be a challenge to find a good fishing lure for muskie especially for beginners.
Truth is… there are various fishing lures on the market especially for muskie fishing. It is just a matter of finding the ones that will suit your fishing style. Try all of them and see what works best for you.
Still struggling where to start? Try one of the fishing lures listed above and see how it works for you!
Please leave a comment below or a picture of your fish.