Best Fishing Lures to Catch Crappie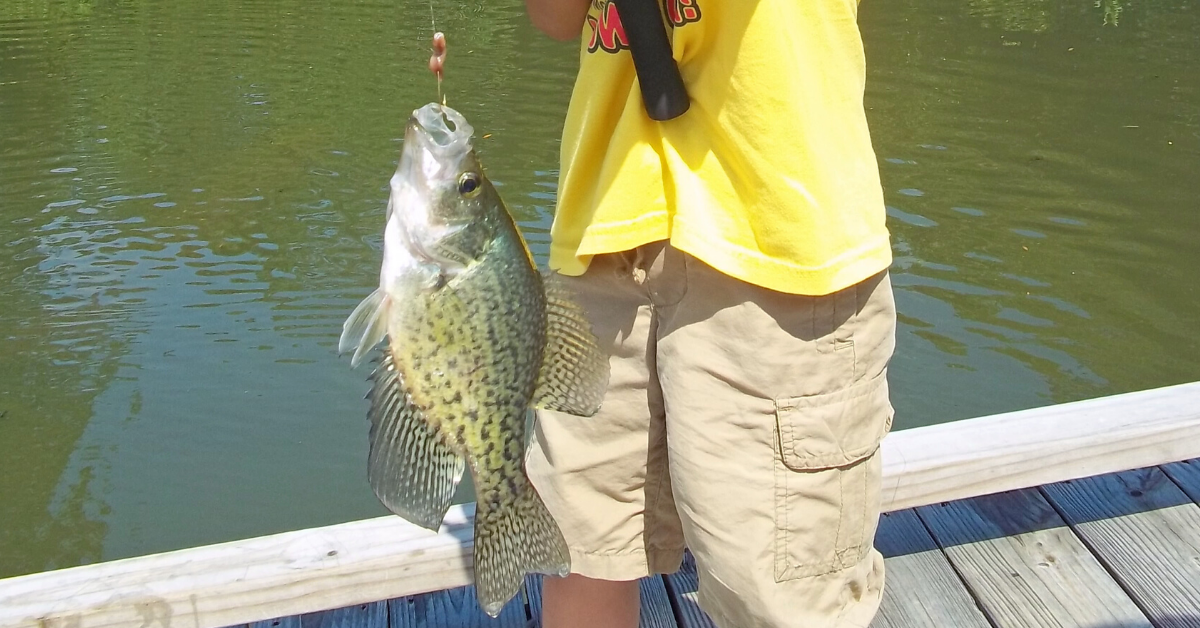 Did you know that crappies are less active during the day and most likely to feed during dawn and dusk? With this in mind, it could be a challenge to catch one. The easy way to catch Crappie is to make sure you are using the right tackle.
Let`s start with… what is a crappie? Crappie fish or crappie is also referred to as a black or white crappie. A crappie can either be light or dark with vertical stripes or a black spotty pattern. Crappies weigh between ½ to 1 pound with a 5-12 inch measurement and can sometimes grow even larger.
Keep reading to see the most effective lures available to catch Crappie:
Creme Lures Spoiler Shad Swimbaits
The Creme Lures Spoiler Shad Swimbaits is a reliable crappie catcher that features quick swimming action and a holographic finish which resembles the look of a baby shad. The Spoiler Shad Swimbaits is also designed with a molded-in weight and a premium hook which ensures that the crappie will be well attached to the lure.
Although, the Spoiler Shad Swimbait are bite-size soft baits, it has an ability of landing bigger size crappie and bass. What everyone likes most about this lure is the vibration feature which is capable of attracting fish in to your area.
With all the main features and advantages of the Creme Lures Spoiler Shad Swimbaits, you will be catching that fresh crappy in no time!
Leland Crappie Magnet Best of the Best Kit
The Leland Crappie Magnet "Best of the Best Kit features 96 split tail grub bodies in 12 colors, 16 double-cross jig heads and four of two inches crappie floats. With this bait selection, I am sure that you will catch more crappie than your friends.
The Crappie Magnet Best of the Best Kit by Leland is worth your money as you can benefit from the wide selection of baits which are useful when fishing for a certain type of fish such as the crappie fish. The best thing about the "Best of the Best Kit" is that you can expirement with it and choose the lures that are tempting the Crappie today. It is important to always look for premium quality hooks as you do not want to miss that crappie fish!
Just a quick info… did you know that the best bait for crappie fishes are live minnows? And most users of Leland`s Crappie Magnet Best of the Best Kit has proven that the use of live minnow on the hook entails good catching results. Sounds like a good plan, right? Try Leland`s Crappie Magnet Best of the Best Kit now!
Worden's Rooster Tail Panfish Pak
Worden`s Rooster was developed in the 1950s and is said to be one of the most productive lures invented. The Worden`s Rooster Tail Panfish Pak comes with a Bass Pro Shops 349-5 utility box and features a colorful vibric rooster tail. The rooster tail comes in different colors including fluorescent white, chartreuse, firetiger, rainbow, black and yellow Mylar. Assorted colors are helpful when trying to drive the fish into your area.
One of the most mentioned features of the Tail Panfish Pak is the vibric rooster which is most effective in luring fish to your area and can give you a higher possibility of catching the biggest crappie fish.
Wait there is more to that… the Worden`s Rooster Tail Panfish Pak has spinning blades and pulsating hackle tails that are irresistible to crappie. Additionally, this will ensure a better catch and a highly rated fishing experience.
The RoosterTail Panfish Pak is very affordable and is ideal for all types of fisherman from beginner to intermediate users.
Strike King Mr. Crappie Spin Baby
The Strike King Mr. Crappie Spin Baby is known for its undeniably amazing vibration action which is good for casting and trolling in all types of water. It has a custom-made blade that produces resounding thump and flashes a crappie couldn't ignore. The Spin Baby also features a beefy Shadpole CT body with platinum black hook that can guarantee a good grip and unmissed target.
The Strike King Mr. Crappie Spin Baby is ideal for catching crappie because you can use it in all types of water such as in deep or shallow spring water where crappie are thriving. In fact, you can also use it ice fishing! This is a versatile lure and is worth the money.
If you want a versatile and reliable crappie fish lure, choose the Spin Baby!
The Bottom line…
There are various fishing lures on the market ranging from beginner`s to expert use. Choosing the best fishing lure is the most important thing to consider when fishing for a specific type of fish such as the crappie. The best choice of fishing lure will help ensure a better catch, unmissed targets and a good fishing experience.
In addition, if you are fishing for a crappie, it is essential to know the background information of the fish, its habitat and environment for you to know where and when to fish and what type of lure to use.
Realistically, it is still up to us to find the most effective fishing lure that will enable us to catch the fish that we are after.
The bottom line is… all fishing lures are crafted and designed to be useful. Choose the one you think suits your needs the most!