LINEXPERT G-BRAID Braided Fishing Line Review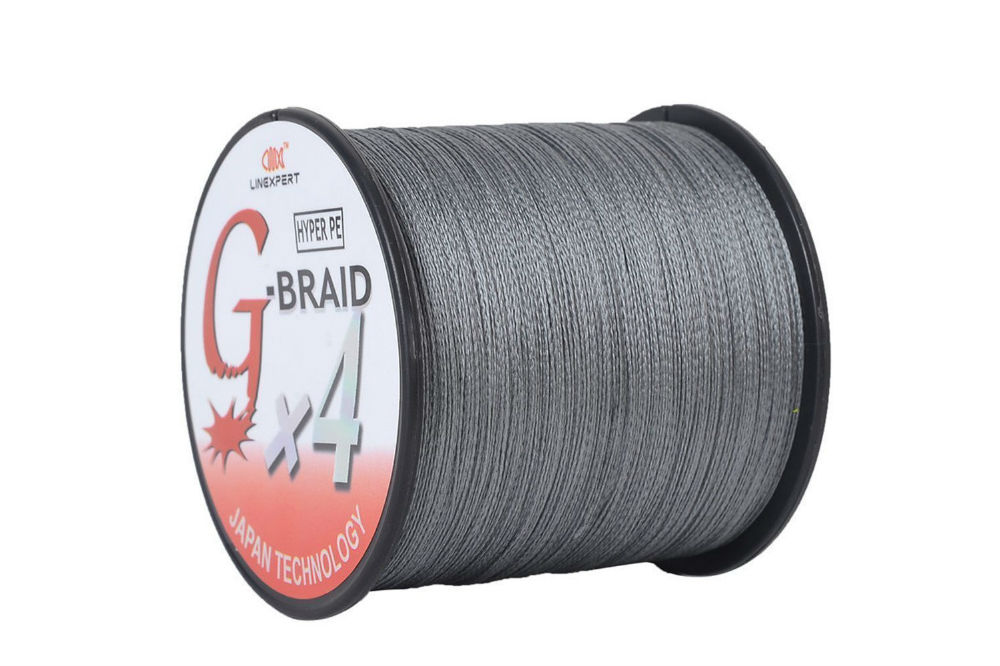 There are plenty of features that need to be taken into consideration when choosing the right fishing wire. Aside from your fishing pole, your line is the next most important thing. From choosing a line with a high level of color retention to ensuring your chosen line can deal with high tensile strengths, each feature works together to give you a pleasant fishing experience.
If you're in the market for LINEXPERT G-BRAID line, consider their braided fishing line as it has the majority of features you'd expect to see in a high-quality fishing wire, and then some.
Features of the LINEXPERT G-BRAID Braided Fishing Line
PE Fiber Construction
4x Fiber Design
Extra-Small Diameter
Advanced Color Protection
Low Memory
Easy to Handle
Detects Light and Heavy Bites
Pros
Very Little Color Bleeding:
It's important to have a fishing wire that is going to give you the utmost amount of visibility while you're casting. But it is also important that the wire disappears once it enters the water to catch unsuspecting fish.
The LINEXPERT G-BRAID Braided Fishing Line is phenomenal in terms of its colorfastness. You typically will not have to worry about bleeding while you are threading the line or when using it in the water.
Great for Bringing in Small and Large Fish:
The lower to medium tensile strengths are resilient enough for fishers to catch varying sizes of prey. This helps to make the line adaptable to a variety of different fishing situations, whether you're fishing near rocks or in deeper lakes.
As with any fishing line, it is important to first test the tensile strength before spooling it onto your reel.
Anti Knot-Slip Design:
It can be incredibly frustrating to be working with a braided fishing line that seemingly won't knot near your lure. This can force you to lose expensive tools in your tackle box that you won't want to replace.
Luckily, the LINEXPERT G-BRAID Braided Fishing Line is designed to have an anti knot-slip design. Once you tie a knot into the line by hand, it will stay strong for the duration of your fishing expedition.
Easy Line Tracking:
If you're the type of person that enjoys fishing around difficult terrain or if you're on a big fishing trip with friends and family, you're going to need to choose a fishing wire that is easy to track. The last thing you'll want is to get your line caught in someone else's or to lose sight of it entirely. This braided fishing wire is exceptional for its easy line tracking.
Great for Beginners:
With the combination of the ease of tying knots and its high visibility when outside of the water, the LINEXPERT G-BRAID Braided Fishing Line is a great choice for beginner fishers. It can easily be threaded into lures and gives you the strength you need to deal with varying sizes of fish.
Resistant to Fraying:
Fraying is another concern to have when it comes to a fishing line as it not only is difficult to work with, but it can also destroy your rod. This particular fishing wire is resistant to fraying, even with consistent casting. You won't have to worry about cutting lines even after fishing for hours at a time.
Cons
As with any fishing line, there are difficult things that you may encounter. With the LINEXPERT G-BRAID Braided Fishing Line, you'll notice the majority of difficulties aren't deal-breakers but are still important to take note of.
Also, depending on the batch you receive in the mail you may or may not receive a faulty product.
Prone to Breakage at Higher Tensile Strengths:
An issue that you may experience with the higher tensile strengths is that they may not be able to hold the advertised amount of weight. This is why it is essential for you to test your line before getting out on the water.
You can easily tie weights to the end of the line to determine what the maximum weight for the line should be.
Color Bleeding May Occur:
Without proper storage and with consistent use over the years, your braided fishing line is going to experience color bleeding. This is a common issue with the majority of braided line manufacturers, but as unfortunate as it is you will have to take care while storing your fishing wire.
It's best to keep it out of direct sunlight and to prevent the entirety of the spool from being engulfed in water for a long period.
Summary of the LINEXPERT G-BRAID Braided Fishing Line Features
There are four main features to take note of with the LINEXPERT G-BRAID Braided Fishing Line that helps to set this brand apart from the rest.
PE Fiber Construction:
As a 100% PE Fiber-constructed fishing line, it's one of the most advanced fishing wires on the market. It offers the unparalleled strength that will give you the ability to capture fish of varying weights.
In most cases, you won't have to worry about snapping or fraying of the line which is essential for fishers who use the same wire over the years.
4x Fiber Design:
Working alongside the PE Fiber, the 4x braided fiber design is essential for improving the overall strength of the line. You'll also appreciate the consistent round nature of the wire that makes it incredibly simple to cast.
There won't be any drag or snagging, just easy and smooth casting.
Easy to Handle:
Whether you're a beginner or someone who is tired of handling sensitive wires, you'll find that the LINEXPERT G-BRAID Braided Fishing Line offers optimal handling. You'll easily be able to feed the line through lures and your reel for quick and efficient fishing.
Detects Small and Large Bites:
No matter what type of bite hits the end of your casted line, you'll be able to detect it within a matter of milliseconds. This is by far one of the most interesting features of the braided fishing line as you can capture unsuspecting fish before they even know what's happening.
Comparison
There are plenty of different types of braided fishing line on the market such as the Bravefishermen Super Strong Braided Fishing Line and Reaction Tackle High-Performance Braided Fishing Line. Although the features of all three are comparable, the LINEXPERT G-BRAID Braided Fishing Line carries more advantages than their competition.
First, you won't have to worry about line tangling as often as you would with other lesser-quality brands. You'll also appreciate the strength of the color locking within the wire, which helps to reduce any fading and bleeding.
It's also important to note that the LINEXPERT G-BRAID Braided Fishing Line is phenomenal in its performance, giving you the ability to easily cast off with minimal effort.
At the end of the day, you're going to want a product that gives you reliability and a sturdy fishing experience. With the ability to adapt to any fishing style, the LINEXPERT G-BRAID Braided Fishing line surpasses the competition by providing a seamless fishing experience.