Best Fishing Rod and Reel Combos: Which One Is Perfect for You?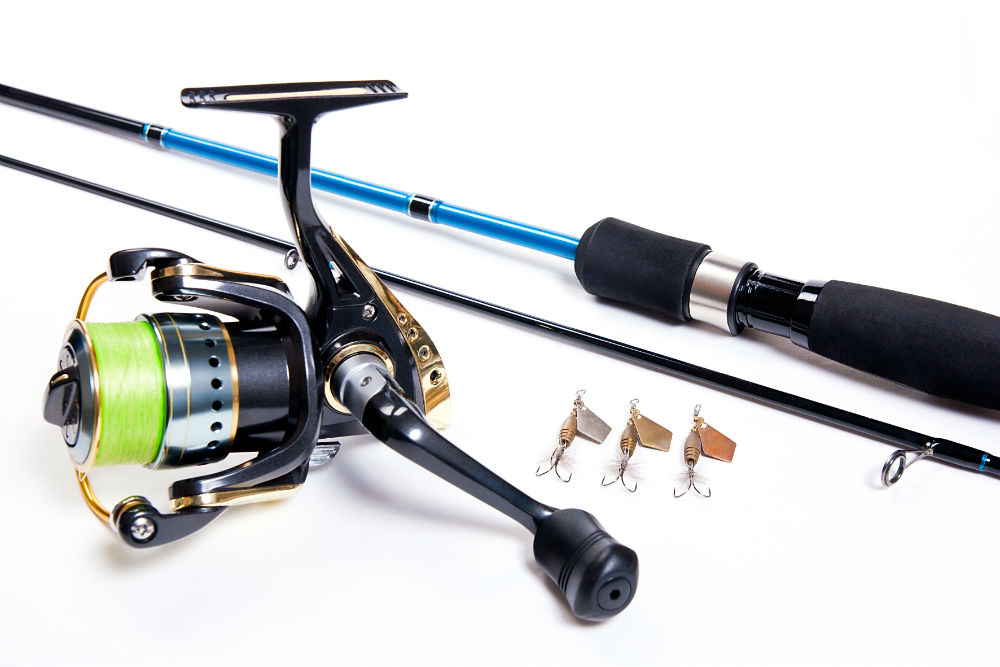 It is often said that an artist is only as good as the tools he uses. Does this apply when it comes to fisherfolk? Well, in terms of their fishing gear, if it does apply to them, then it is safe to assume that fishing professionals and hobbyist will want to own the best fishing rod and reel combo.
Those who probably want to save some money may commit to making themselves a homemade rod. Even if their rod is homemade, it is safe to assume that they, too, will want to make the best of their reel and rod so that it will not break when they have to support big catches.
If you want to know which is the best fishing rod and reel combo, then you have come to the best place. Even if the rod and reel combo is intended for a gift, you will want to make the right decision because you want to give something that is not only useful, but one that good get the job done well.
Plusinno Fishing Rod and Reel Combos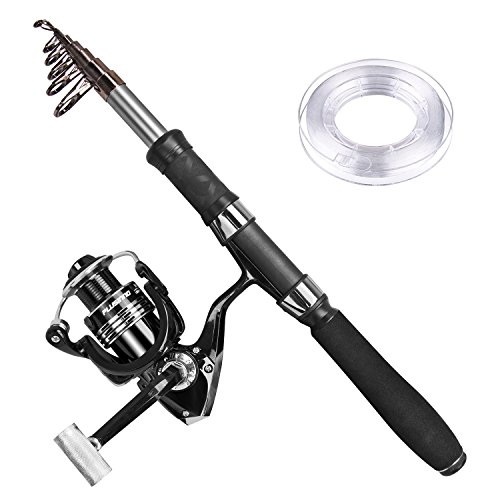 This fishing rod and reel combo looks like an instrument of torture. The rod is a carbon fiber, telescopic one that comes with a practical kit that can be used in both salt and fresh water fishing activities.
Pros
A variety of choices:
You can get the rod and reel only, a full kit with a carrier bag, or a complete kit without the carry bag. Both kits come with the necessary accessories so you can choose the combo option that makes the most sense to you financially and practically.
Made from quality materials:
The rod and reel combo is made from materials such as carbon fiber, which is high density and mixed with fiberglass and stainless steel. It is safe to say that the rod is durable and the reel is designed in such a way that you don't have to worry about corrosion from seawater.
Anti-reverse:
This comes with a power drive gear that allows for instant anti-reverse. What is also interesting about this is that it has a deep aluminum spool.
Cons
Two counts do not mean two rods:
If you select an option that has two counts, "two counts" does not refer to two rods or two reels. Instead, it refers to the rod and reel counted together as two items.
Defective Pieces:
If you buy this and it appears to be broken, you should return it within the windowed time. You may notice chunks of varnish or glue above the reel screw or the glue on the product may fail.
May break under heavy weight:
If you intend to trap large fish, then this rod may not be suitable for that job as it may break if you attempt to reel more massive fish.
Sougayilang Fishing Rod Reel Combos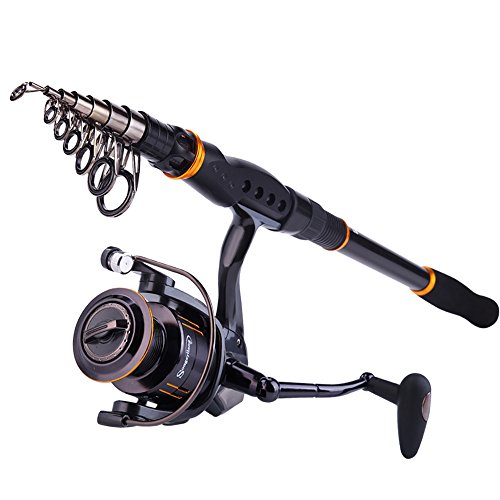 This fishing rod and reel combo has a fishing pole that is not only telescopic but collapsible. Like the previous rod, it too looks like an instrument of torture.
The manufacturers have designed the rod to be used in both salt and freshwater fishing.
Pros
A combo selection:
You can choose from only the rod and reel set or the full kit which includes a rod, a reel, and some accessories. The rods are available in six lengths that go from 5.9 ft to 11.8 ft.
Collapsible rod:
The rod can be collapsed for convenience. This feature makes it effortless to carry around and at the same time, easy to store. Hence, there is no need to worry about how you are going to travel with and subsequently store your rod.
Perfect for kids:
The rods come in different sizes. If you want your kid to have one, then there is no need to worry about getting the right length for them. Similarly, the rod is lightweight so it will be easy for them to hold.
Cons
Holds up to 10 lbs only:
If you intend to catch a fish heavier than ten pounds, don't be disappointed if this rod succumbs to the damage it will receive.
Does not come with a line on it:
This rod and reel set does not come with a line so you will have to get your own despite the picture showing one.
Be careful casting:
You have to be careful when casting the line and rod. Casting a certain way can cause the tip of the rod to break off.
Yongzhi Rod and Reel Combo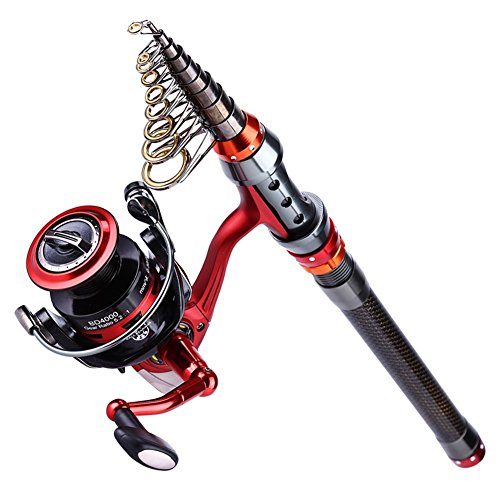 This rod and reel combo doesn't look too much like a torture device. It is also telescopic and made from carbon fiber. The Yongzhi Rod and Reel Combo is suited to be used when fishing in freshwater and salt water.
Pros
Long Warranty Period:
The manufacturers provide their customers with a 12-month warranty period. You reach out to their customer service representatives in the event you experience problems with your purchase.
Elastic Rod:
The rod is made of elastic and stainless steel. With such materials, the rod is durable as well as corrosion resistant.
Geared Reel System:
The reel is operated by a gear system that is high strength. It also comes with anti-reverse features along with a collapsible handle.
Cons
Bag only holds the rod:
If you choose to get the rod and reel combo with a bag, the bag is only capable of holding the rod.
Holds up to 5lbs of fish:
This rod can only hold a maximum fish weight of five pounds. If the fish is heavier, the rod may break.
The reel is not smooth:
Initially, the reel is really smooth and works well, but after repeated use, it may get a little tight.
Best Fishing Rod and Reel Combo for Fishing: Our Verdict
If we were to choose the best rod and reel combo, the decision would be tough as all three options have their strengths as well as unique faults. Some of the faults include weight restrictions, durability, and issues regarding warranty.
When making a decision, you will have to decide which faults are most tolerable for you. If the decision is still a tough one, then you can decide based on cost or convenience. Get one that is collapsible, comes in a bag and has additional accessories like a line.