Kastking Summer and Centron Fishing Reel Review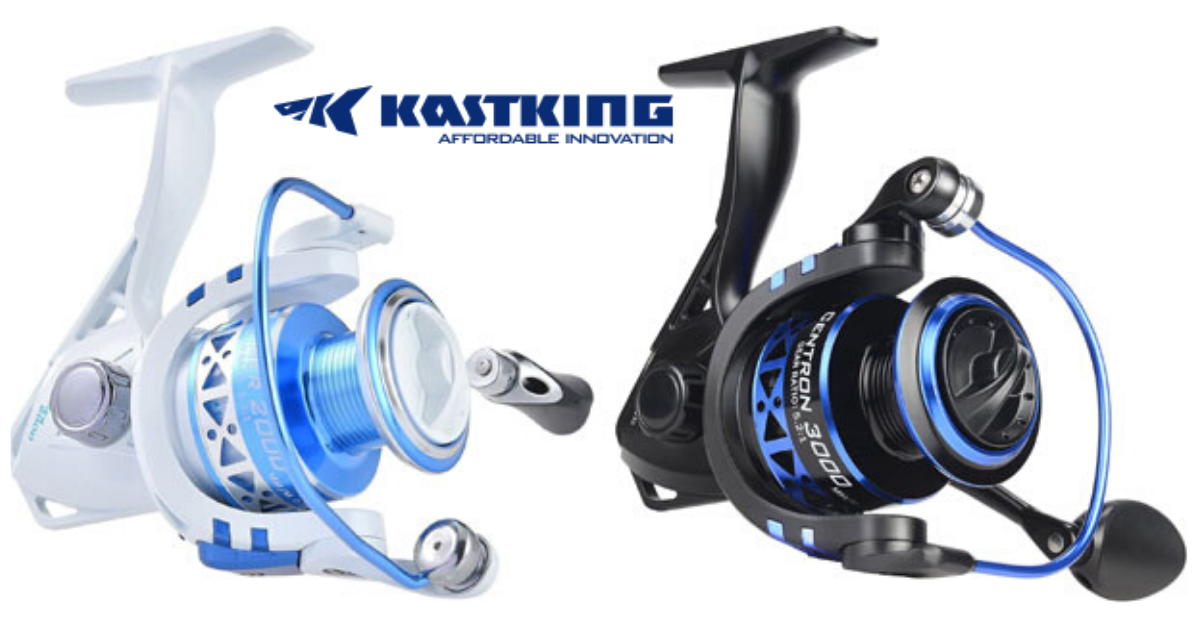 Fishing is a prevalent sport. People often like to go into calm waters and catch a fish or two. The achievement has no comparison. To improve your fishing experience, getting the right equipment is essential. One of these is the fishing reel.
A major brand for sleek and performance-oriented reels is The Kastking Summer and Centron Fishing Reel. You might wonder if its performance is up to the mark, If yes, would the price be too high? 
Well, guess what? We have picked a fishing reel that fits the bill, both in terms of budget and performance.
This fishing reel is constructed with graphite, and the reel is compact and painted with anti-rust paint. The spool is also anodized to ensure smooth performance. The ball bearings are 9 + 1, which means it can carry a greater load and work through it.
For people who like trout fishing, bass fishing as well as professionals, this reel would make their job easier. And for beginners, this reel is equally good, providing them ease and giving them a smooth fishing experience.
Features of Kastking Fishing Reel
Design and Construction
KastKing introduces us to a stylish set of reels that are exceptional in their performance too. Who would have thought that reels could be anything but boring? The KastKing Summer and Centron Fishing Reels are very aesthetic available in white and black colors with a polished finish. 
The Summer and Centron fishing reel are made up of solid graphite that gives it a very sturdy frame that does not corrode. The graphite frame is light as well, making it easier to carry the rod for longer periods. To further strengthen the reel, hardened metal is used to make the shaft, so it remains strong as well as durable.
One of the most amazing features is the foldable handle that can be adjusted and interchanged according to the preference. People can switch it to either left or right, depending on the dominant hand with just a click.
Apart from this, the most notable feature is the 9+1 high-end ball bearings that appeal to many. This helps reduce any friction and take on more load.
The anodized aluminum spool is quite easy on the eyes and is very durable. The fishing reel is also covered with anti-corrosive paint. This protects it from salt water and other chemicals. Thus, this makes this fishing reel an ideal choice if you are seeking durability.
Ease of Use
This reel is often recommended widely to people new to fishing. Not just that, professional anglers find this reel amazing too due to the smooth motion. The better ball bearings allow movement one way only and anti-reverse, which gives an overall seamless experience of fishing. 
Moreover, advanced anglers can recognize their big catch just by the motion of the reel. This is what gives this fishing reel significance over others.
Apart from this, KastKing Fishing Reel has a well-machined pinion gear that makes it easier to catch the fish and pull it towards you. With this reel, casting and reeling are very easy and smooth for both beginners and advanced anglers.
CNC Machined Aluminum Spool
CNC or Computer Numerical Control is a system that Kastking uses in its reels. This is another feature that is found to be quite helpful for beginners and advanced anglers alike. The CNC aluminum spool allows you to throw a more precise line. This will help you catch fish faster and not worry about precision. 
The spool is also lined with multiple grooves that aid in smoother execution of throwing the line. The grooves make sure the lube stays, and you don't need to lube it again and again. Consequently, this maximizes the performance of the fishing reel.
High Power Device and Inner Parts
What differentiates this reel from all others in this category is the High Power device. This aids the rod in carrying up to 17.5 pounds. The incredibly high power reel helps you fight back the fish and catch it rather quickly. The graphite body and CNC aptly help in keeping the reel compact without affecting its performance.
The mesh gear draws immense power from the reel and is then further aided by the pinion gear, which is connected to the main shaft. The main shaft is sturdy enough to hold a considerable amount of weight.
Even though the reel is quite lightweight, one may not expect this much power from it, but the graphite and hard metal play a vital role in this.
Value for Money
Finding such an excellent reel for a nominal price is quite rare. The price is reasonable, and the fishing reel offers lots of advanced features too that are only present in expensive reels. This reel can convert any angler in pro and provide great assistance in freshwater fishing and major fishing events like trout fishing, bass fishing, etc.
Other Features of the Fishing Reel
Other things this reel is known for are the very efficient drag system that allows you to pull the fish quite rapidly. The 9 + 1 MaxiDur ball bearings help it survive in the salty water. The 5:2:1 gear ratio makes it quite effective.
The reel is available in multiple versions like 2000, 3000, 4000, 5000. These all are different from each other, depending on their weight and maximum drag capacity. More advanced anglers can choose a higher number, while beginners can choose the minimum one. 
Pros
Great Drag System.

Affordable.

Lightweight graphite body.

Very easy reeling and angling.

Anti-corrosion for more durability.

Works amazingly in both freshwater and saltwater.

Ambidextrous capabilities.

Great for beginners.

High powered.
Cons
Nine-ball bearing is not that smooth.
Conclusion
Overall, this is one excellent fishing reel at a very nominal price. It offers all the advanced and essential features in one. Beginners, as well as professionals, can use it quite easily. This is very high performing with immense power and a very efficient drag system.
The look of the reel is stylish, too, that will significantly complement your rod. For seasoned users, The KastKing Summer and Centron Fishing reel would make an excellent choice.
If you require more knowledge on fishing then have a read on this page. It holds extensive knowledge on how to fish, etc.